As an avid Christmas lover, I couldn't resist adding a fun wreath to the playroom I've been working on for Arthur. I decided a pom pom wreath would be perfect, and a great way to use up some leftover yarn I have laying around the house. By doing this I was able to create a bright and playful wreath while still choosing colors that were not totally out of character.
If you'd like to see how to make your own festive pom pom wreath, follow the steps below. FIY it was super easy!
I started by making an abundance of pom-poms. I used a pom-pom maker by clover and it makes the process so quick and easy. (This makes super cute pom-poms to add to the top of a hat or your ice skates as well) I was partially just using up skeins of yarn during this part, and the amount of pom-poms you'll need will vary depending on the size of your wreath.
I had made a rosemary wreath a few years ago with the leftover rosemary from our garden so I already had the base for the wreath. WINNING! I knew when I was making this that I wanted to to have a crazy amount of pom-poms and lots of depth. So the pom-poms were going to be a little smaller but have more than if I were to use a larger size maker ( I used the 45mm).
Once all your Pom-Poms are made.
Using the tails of yarn, tie the pom-poms to the framing of the wreath.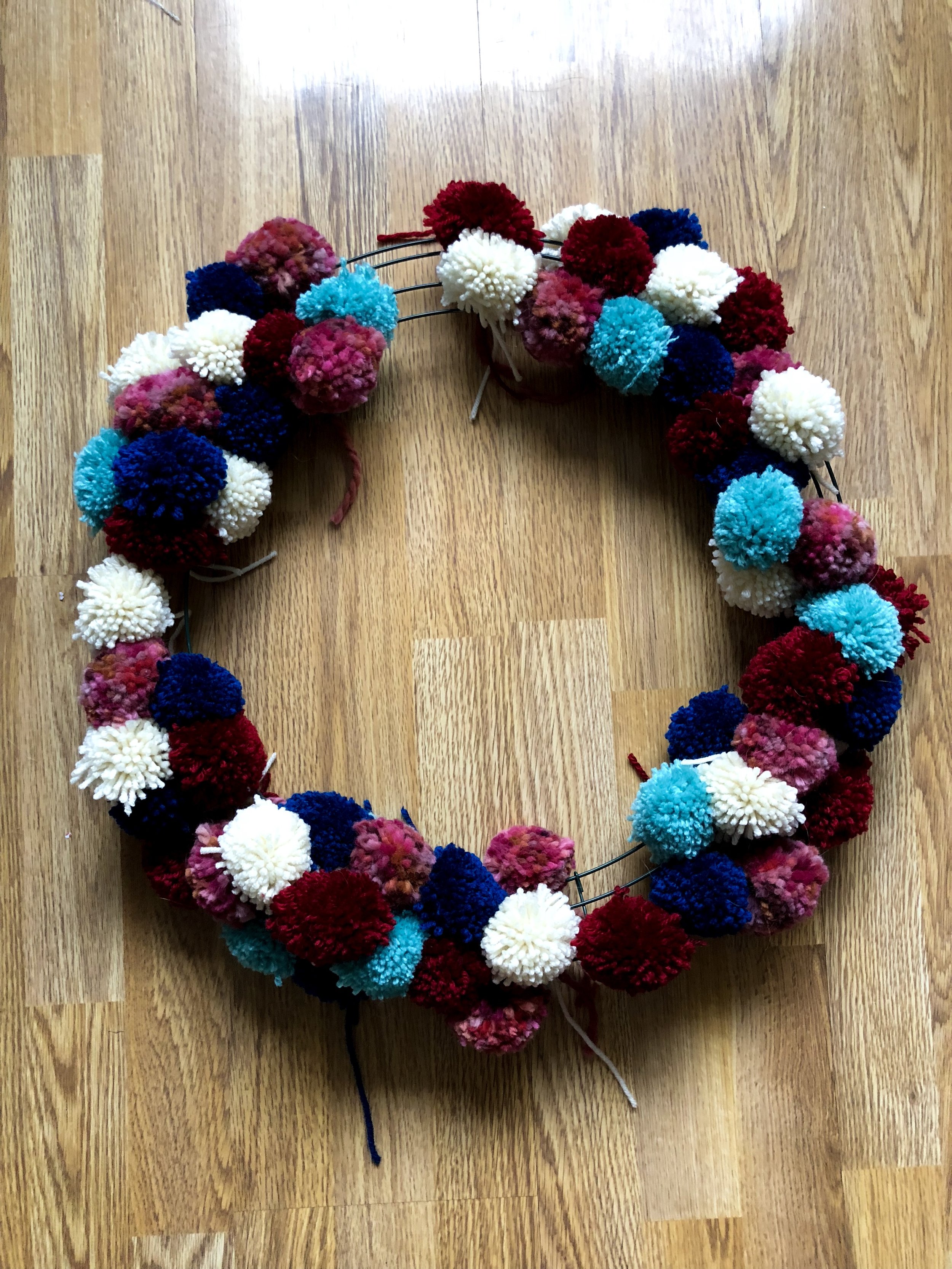 I recommend attaching these at random.
For my wreath I wanted the colors to be spread out, and totally random. This worked well for me, because using scrap yarn I had varying amounts in the chosen colors.
Ta-da! You have a pom-pom wreath!
This wreath is so much fun on its own, however you can add a little Christmas tree and/ or a kindness elf to it like I did. I picked up the brush bottle tree in the dollar section at Target (and yes, it was actually $1). The kindness elf I made with a peg doll from JoAnn's and some felt and a little acrylic paint. I love the idea of being able to place little acts of kindness on the wreath for Arthur once he gets older! I hope you love this colorful Holiday addition. Maybe it even gives you a little inspiration to brighten your holiday decor, or use up those extra skeins of yarn!